The Return of the King(s): Lions come home to Cornwall
---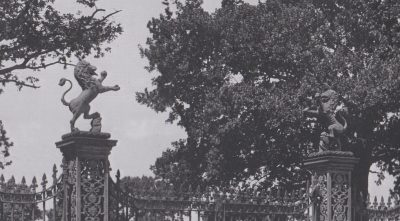 The ALR's latest recovery has just been announced in the Antiques Trade Gazette – and read more below!
We all know that art or objects can mean far more to us than the fame of the artist or its financial value, and that is why we at the ALR strive to recover stolen items of all values and to protect our clients from inadvertently handling proceeds of crime.
As such, we are very happy to report the recovery of two wrought iron rampant lions that were held within the same family since the 19th Century before being stolen in 2000. The pair of pier finials were made for the claimant's great-great grandfather to stand guard on the gates at the entrance to their house in Hertfordshire. A similar lion to the pair was made for the (now closed) local public house, the Silver Lion in Lilley, Hertfordshire. That statue now stands on the village green.
When the family subsequently moved to Cornwall, the lions accompanied them to their new home in Cornwall. 20 years after their theft, the ALR located the lions as a result of a due diligence search made by Duke's Fine Art Auctions, a subscribing auction house in Dorset. The consignor had bought them from a scrap metal dealer within the last 6 years. The ALR was instructed by the claimant to recover them and as the seller was unable to demonstrate good title, the lions were returned.
"I am so grateful to the Art Loss Register for reuniting me with the stolen lions.  It was amazing enough that you rediscovered them after such a long time, but subsequently the advice you have given and the skill you have shown in negotiating their return with everyone concerned has been equally impressive.  I can still scarcely believe it and I have been and will continue to be fulsome in my praise for the Art Loss Register to all my friends."

– Owner of the lions

"We are delighted we were able to help restore these lions to their rightful owner. It's exciting to know they are returning home! We have worked with the ALR since it was set up and we applaud and support all their excellent work."

– Guy Schwinge, Partner, Duke's Fine Art Auctions.

"We're really happy that a piece of family history has been returned. It's another case on which we are proud to have worked where the personal importance of the objects greatly outweighs their financial value. No victim of theft should be denied the opportunity to recover their stolen property".

– Antonia Kimbell, Recoveries Manager, The Art Loss Register
Below: The lions back at home