ALR Quarterly Newsletter Issue 18 – October 2020
---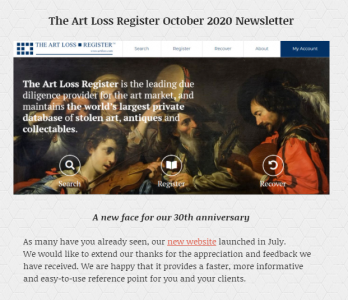 A new face for our 30th anniversary
As many have you already seen, our 
new website
 launched in July.
We would like to extend our thanks for the appreciation and feedback we have received. We are happy that it provides a faster, more informative and easy-to-use reference point for you and your clients.
 …
Max Ernst located by the ALR sells at auction 
We are delighted to announce the recovery of Max Ernst's 
Foret.
 The work disappeared from a framers on Madison Avenue in New York in 1987, and was reported to both the 
International Foundation For Art Research (IFAR)
, and the ALR.  It was located during a due diligence check made by an international auction house in 2019, after which it was withdrawn from sale. The ALR facilitated its recovery and it was sold at public auction in New York this summer on behalf of the claimant.
Shaping policy and 'art crime' in 2020
While all markets evolve and recover from a immensely difficult 2020, there are undoubtedly additional challenges in the near future for the art market. As ever, there are opportunities within those, and we pick a selection of those which intersect with our work.
The Netherlands takes significant steps in colonial objects debate
Recent major news in the museum and wider community in the Netherlands was a series of recommendations made by the Raad voor Cultuur to return objects in Dutch museums that were forcefully removed during colonial times. The recommendations have been widely supported within museums including the Nationaal Museum van Wereldculturen (National Museum of World Cultures). The move sits alongside similar advice at a national level in France and Germany, as well as upcoming ones in the UK and elsewhere.
French judiciary 'Droit & Patrimoine' focuses on the art market
The monthly French magazine for jurist's practitioners is publishing a 62-page file dedicated to the art market in their October publication. The ALR's Paul Exbrayat has contributed an article on the topic 'the stolen art databases', presenting the differences and opportunities between open, closed and managed stolen art databases – and covering why it is in the general interest of the collectors and the market to use them at broad scale. The article will be online on the 'Droit & Patrimoine' website in the coming days.
Special Feature: Gallery consignments in a locked down art world
Given recent uncertainty, we have been contacted by many dealers, advisors and collectors recently to register artworks that are on consignment or in shared ownership. This is one of the largest growing areas of our work, and in the light of the understandable difficulties in accessing your artworks in these times, we are offering significant discounts on the registration of multiple objects that are in this category.
Find out more about how this service works on the dedicated page on our website, and get in touch.
Jean-Michel Basquiat's 'Humidity' – subject to one of the better known disputes in the art world revolving around multiple ownership claims – but there are many others.
Frieze Masters
An extended Frieze Masters Online launched in October to kick off the major international fair season. All objects on the Frieze Masters Online Viewing Room have been checked by the ALR.
Dates: 9-16 October
head to the fair >>
TEFAF Online
As TEFAF bounces back from a shortened Maastricht and two New York fairs sadly cancelled, TEFAF Online brings 300 masterpieces with one object per exhibitor – all checked by the ALR.
Dates: 1-4 November
register now >>
Art Basel:20c
Having pioneered the Online Viewing Rooms, Art Basel will follow up their recent OVR:2020 initiative, Art Basel are launching OVR:20c for 20th century works, all checked by the ALR.
Dates: October 28-31
find out more >>
MasterArt ArtCity
We are delighted to announce a strategic partnership with the newly launched MasterArt ArtCity. Items on the online fair will be searched against the ALR database to ensure that none reported as stolen, looted or subject to a dispute are offered for sale.
Register online for the experience now, open 23-28 October