CILA's Claims Focus covers work of The Watch Register
---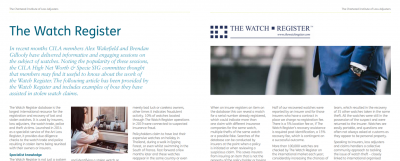 The Chartered Institute of Loss Adjusters (CILA) Claims Focus June 2020 issue featured an article from the ALR's Antonia Kimbell about the work of The Watch Register and the recovery of stolen watches.
In recent months CILA members Alex Wakefield and Brendan Gillooly have delivered informative and engaging sessions on the subject of watches. Noting the popularity of these sessions, the CILA High Net Worth & Specie SIG committee thought that members may find it useful to know about the work of the Watch Register. The following article has been provided by the Watch Register and includes examples of how they have assisted in stolen watch claims.
The Watch Register
The Watch Register database is the largest international resource for the registration and recovery of lost and stolen watches. It is used by insurers, loss adjusters, the watch trade, police and theft victims. Launched in 2014 as a specialist service of the Art Loss Register, it provides due diligence checks to the watch trade and police resulting in stolen items being reunited with their owners or insurers.
Specialist knowledge
The Watch Register is not just a system that collates data on watch losses, automatically signalling results when a serial number matches a watch searched by a member of the jewellery trade. Knowing and understanding the brands and the watch market is of paramount importance to our team. Numbering systems for prestige watches are complex and vary from brand to brand. For Rolex watches the serial number is always unique. However, when looking at a guarantee card it can be hard to decipher whether the serial number contains a "O" or a zero, and in which type of numbers a O would never be used. Brands such as Franck Muller require both the model and the serial number to be able to identify a watch as neither are individually unique. Understanding this can be the difference in correctly registering and identifying a stolen watch or not. With 850 different makers and manufacturers registered on The Watch Register database, our team is always available to lend its experience and assist with these questions.
Registering watches on the database can be done individually through our website or by emailing a spreadsheet for large thefts or historical losses. For this we require evidence of loss such as a police crime number and/or claim reference number, but not the name or contact details of the policy holder. Proof of ownership may be necessary. Sometimes paperwork is bought online and used to feign ownership. Some watches are reported by loss adjusters and insurers as an "accidental loss" or "stolen" more than once. Sometimes this comes down to merely bad luck or careless owners, other times it indicates fraudulent activity. 10% of watches located through The Watch Register operations in 2019 were connected to suspected insurance fraud.
Policy holders claim to have lost their expensive watches on holiday in Thailand, during a walk in Epping Forest, or even whilst swimming or on a pedalo in the South of France. Fast forward a few months later and these watches reappear in the same country or even county where the policy holder lives and are offered for sale. Loss adjusters and claims handlers, despite their suspicions, often have no choice but to give the benefit of the doubt to the policy holder. The claim is processed sometimes for a much-reduced cash settlement or a replacement watch is given. The Watch Register's job is then to locate those watches when they are offered to jewellers or pawnbrokers, usually by an innocent purchaser, sometimes by the thief, and occasionally by the policy holder themselves or an associate. We have found policy holders selling watches after or even prior to a claim being made. Promptly registering a watch on the database can result in the policy holder being caught red-handed on a fraudulent claim.
When an insurer registers an item on the database this can reveal a match for a serial number already registered, which could indicate more than one claim with different insurance companies for the same watch, multiple thefts of the same watch or a possible fake.  Searches of the database can be conducted by insurers at the point when a policy is initiated or when reviewing a suspicious claim. This saves insurers from insuring an item that is not the property of the policy holder or having to pay out on a loss unnecessarily.
One third of the watches reported as lost or stolen to The Watch Register database are Rolex, making them the most desirable brand for thieves followed by Breitling, Omega and then Tag Heuer. Men's watches are more commonly stolen than women's due to their higher values, particularly the sports models. In 2019, we located 265 stolen watches with a total value of over £1.5 million. 70% of these watches were Rolex. In 40% of cases, the watch was stolen that same year, demonstrating how quickly stolen watches are turning up and thus how critical it is to register promptly.
Half of our recovered watches were reported by an insurer and for those insurers who have a contract in place we charge no registration fee. There is a 5% location fee or, if The Watch Register's recovery assistance is required post-identification, a 15% recovery fee, which is contingent on a successful outcome.
More than 100,000 watches are checked by The Watch Register on the international market each year; considerably increasing the chances of recovery thereby helping insurers to reduce their net loss. When a watch is offered to a trader, a check is run against our database and the results are given within 5 minutes. Half of the watches we locate are checked by small or independent dealers.  When a match is identified, The Watch Register team calls the client immediately to ensure the watch is secured and removed from circulation, relying on our global network of police contacts for assistance if required. A Rolex watch stolen in an armed robbery in Greece was offered to a small London trader last year where it was located by The Watch Register team, which resulted in the recovery of 35 other watches taken in the same theft. All the watches were still in the possession of the suspect and were returned to the insurer. Watches are easily portable, and questions are often not always asked at customs as they appear to be personal property.
Speaking to insurers, loss adjusters and claims handlers a collective community approach to tackling the issue of watch theft – closely linked to international organised crime groups and also insurance fraud – is something we need to continue to address together alongside the manufacturers, watch trade and police.
Please visit www.watchregister.com or contact [email protected] or +44 (0) 20 7841 5781.