ALR Quarterly Newsletter Issue 19 – March 2021
---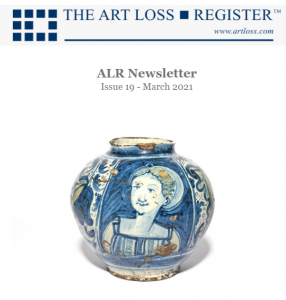 ALR Newsletter
March 2019
To see this article 'as it should be', click here.
Maiolica 'bombola' recovered in the UK
We are very happy that this beautiful example of Maiolica has been recovered through exemplary cooperation between the trade, the police and the ALR.

The bombola was registered on our database in 2016 by Thames Valley Police following a burglary from a private residence. It was offered at auction in the UK in late 2020 and located as part of our due diligence checks and withdrawn from sale. The auction house worked closely with the consignor, the police and the ALR in order for the bombola to now be returned to the victim.
Covid-19 and the impact on the art market – The ALR perspective
It is almost a year since the world went into the first lockdowns – with the ALR's unsuspecting team at TEFAF and in the London office 12 months ago to the day. Despite all the challenges however, it has been remarkable from our point of view to see how the market has recovered and adapted – how quickly auction houses expanded online, art fairs morphed into virtual experiences, museums invested in research, and dealers and collectors continued to buy and sell.We appreciate that these have been incredibly difficult times for all of you, our valued clients, but we hope that you have felt the support from all parts of the market in your work and that there are some positive aspects to this most testing of years.
ALR Loss Alert: Missing in Florida
Four paintings by the rising star Ugandan artist Godwin Champs Namuyimba have been reported to us as having disappeared under suspicious circumstances whilst on consignment in Miami. If you have any information about these works or are offered them for sale, please get in touch.
ALR Loss Alert:
Two works missing from Peter Freeman, Inc.
These two works have been registered on the ALR database as they are missing from the renowned New York gallery's inventory since 2015. If you have any information on the location of these works at this point in time, please contact the gallery directly or let us know.
Provenance Research Today: Principles, Practice, Problems – now on sale
This new Lund Humphries compendium edited by Judge Arthur Tomkins brings together essays by a wide variety of contributors from many different disciplines – art and art history, law, archaeology, anthropology, criminology, forensic science and others. It includes a chapter by the ALR's own James Ratcliffe and Amelie Ebbinghaus on: "The journey home: provenance research under the spotlight"
On sale now

Scans of 50,000 catalogues available for just £5
In the wake of the closure of libraries and the lack of access to other resources, The Catalog Star, our sister company, has brought forward the launch of its scan service.
You can now access and order scans of valuable auction catalogues or individual lots from only £5!
Find out more
Profiling our partners in fighting art crime and cultural preservation
This month… Culture in Crisis
December saw the first anniversary of the Victoria & Albert Museum's Culture in Crisis portal. The projects listed there – in their own words – "brings together those with a shared interest in protecting cultural heritage, providing a forum for sharing information, inspiring and supporting action and raising public awareness". They range from heritage projects based at specific archaeological sites, to documenting endangered languages, to the ALR's own CHARD project recording stolen and missing cultural property free of charge on behalf of governments and ministries, museums and archaeologists.
A tribute to two friends of the ALR, and great losses to their field
Charles Hill
For those who have studied or had even a passing interest in the field of art crime, Charles (or Charley) Hill was one of the giants in the world of recovering stolen masterpieces – from Munch's The Scream (or rather, one of its versions), to Vermeer's in Ireland, and many more. But whilst the already numerous tributes to Charley in The Times and elsewhere mention many of these successes, they do not quite encapsulate his humour, good company and mentoring of the next generation, which will likely be his greatest legacy. For those of us that knew him – and as one lucky enough to grow up with him as a neighbour – he truly was unique. Our thoughts are with Caroline, Chris, and all of his family, friends and colleagues.
– Will Korner, ALR
Richard Edwards QC
In January of this year, it was with deep sadness in that I learned about the death of Richard Edwards QC after a sudden illness. He was a fellow board member of Professional Advisors to the International Art Market (PAIAM) and a friend. Richard was a great contribution to the art market and was described as being "simply masterful in court" in the Legal 500. I found him to be extremely interesting and always fair with his views. From time to time, we would bump into each other on Waterloo Bridge, or somewhere nearby, on our respective walks to work and would engage in fascinating conversations that left me thinking and, more often than not, amused. He will be sorely missed.
– Antonia Kimbell, ALR & PAIAM