Maiolica bombola recovered in the UK
---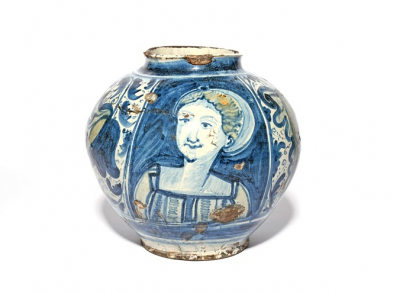 Maiolica 'bombola' recovered
We are very happy that this beautiful example of Maiolica has been recovered by the close cooperation between Woolley & Wallis, the police and the ALR.
The bombola was registered on the ALR database in 2016 by Thames Valley Police following a burglary from a private residence.  It was offered at auction at Woolley & Wallis in late 2020 and located as part of the ALR's due diligence checks and withdrawn from sale. The auction house worked closely with the consignor, police and the ALR in order for the bombola to now be returned to the victim.
The recto of the vase is decorated with the portrait of a young lady on blue background within an oval cartouche with floral motifs. While most will be familiar with Maiolica, a renowned tin-glazed technique used for the decoration of earthenware in the Italian Renaissance, the bombola may be less familiar.  The bombola vase is traditionally characterised by a rounded body shape (from which it takes its name) as well as by a short, large neck. This type of vase originated in Faenza, from where it later spread in Palermo and in the rest of Sicily.
The vase was probably produced in the Sicilian town of Caltagirone, due to the style of its cartouche. Caltagirone was renowned during the Renaissance as one of the main centres for the production of maiolica in Italy. Written evidence shows the presence of more than 100 maiolicari in Caltagirone in the Cinquecento, but due to the earthquake of 1693, only little visual evidence has survived.